Occupational Therapy Assessments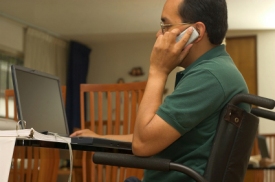 Occupational Therapists assist individuals who have a health condition, disability or injury whether it be physical or psychological to maintain, improve or regain their independence in everyday tasks (occupations) to enhance their health and well being.
RTC provide occupational therapy assessments to a range of customers including case managers, insurance companies, solicitors and individual clients and their families. These assessments usually take place in the individual's home and assess their current function, medical and condition history, current symptoms, home environment and daily routine to establish client centred recommendations aimed at increasing their independence at home. This can include equipment advice and recommendations.
Kay McArthur, Director of RTC is the clinical occupational therapist for PACE Rehabilitation (Cheadle Branch) providing occupational therapy assessment, recommendation, treatment and vocational rehabilitation for amputees and prosthetic users.
"Vanliners used RTC to complete Occupational Health Assessment on two of our employees. This included an initial assessment, feedback about the individuals needs and continued support. Kay was superb in making sure that we, as an employer, were kept in the loop through the whole process and individuals involved were made to feel at ease throughout and confident in Kay's ability as an OT. With Kay's help and guidance, we have been able to provide the support needed for our employees to have a happy and health work environment. The advice she has given has also helped the individuals on a personal level, improving their health through better lifestyle choices. Kay provides a first-class service from start to finish, we could not recommend RTC highly enough."
Charlotte Vanliners